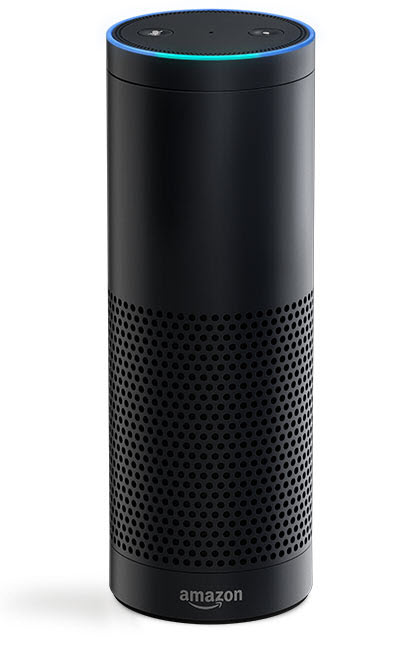 Amazon Echo – The Technological Wonder
Amazon Echo
– also known as
Alexa
, is a voice command device from Amazon.com with functions including question answering, playing music and controlling smart devices. The device consists of a 9.25-inch (23.5 cm) tall cylinder speaker with a seven-piece microphone array, speakers that include a woofer/tweeter and a remote control. The device responds to the name "Alexa", however this "wake word" can be changed by the user (to one other choice at present: "Amazon").  Amazon had been developing Echo inside its Lab126 offices in Silicon Valley and Cambridge, Mass., for at least four years. The device, codenamed 'Doppler' or 'Project D', was part of Amazon's first attempts to expand its device portfolio beyond the original Kindle Ereader. The Echo, previously available to Amazon Prime members or by invitation, became widely available on June 23, 2015. Additionally the service behind it (Alexa Voice Service) is now available to be added to other devices and other companies' devices and services are encouraged to connect to it (using the Alexa Skills Kit).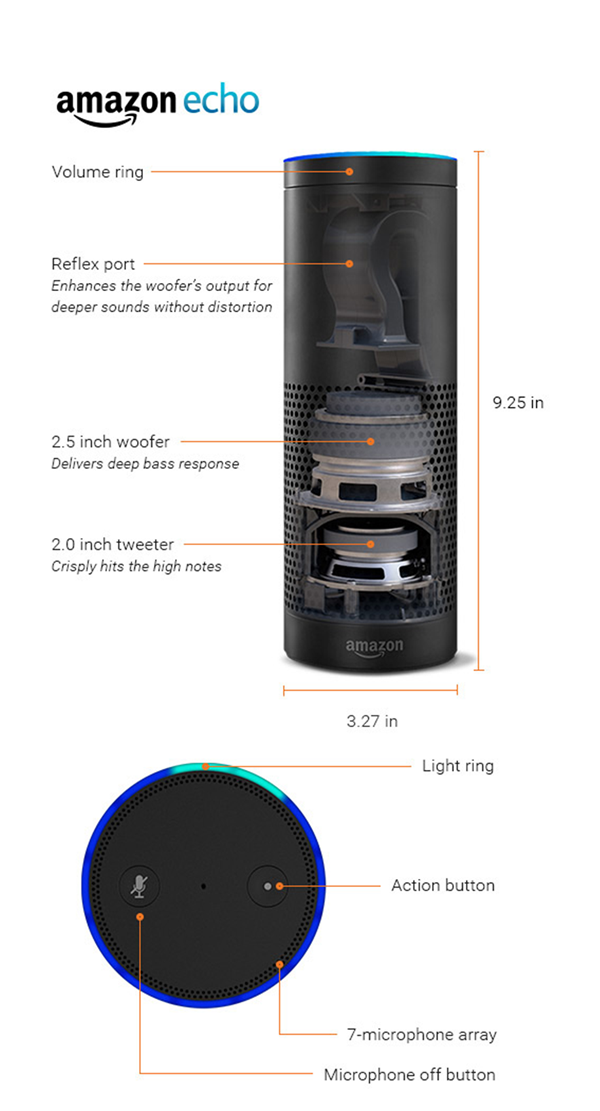 Cloud-based processing
Amazon Echo runs on
Amazon Web Services
. In the default mode the device continuously listens to all speech, monitoring for the wake word to be spoken. The device also comes with a manually and voice-activated remote control which can be used in lieu of the 'wake word'. Echo's microphones can be manually disabled by pressing a mute button to turn off the audio processing circuit. Echo requires a Wi-Fi internet connection in order to work. Echo's voice recognition capability is based on Amazon Web Services and the Amazon common voice platform it acquired from
Yap
, 
Evi
, and
IVONA
, (a Polish-based specialist in voice technologies used in the Kindle Fire). Echo performs well with a 'good' Internet connection (i.e., a connection with low latency) which minimizes processing time due to minimal communication round trips, streamable responses and geo-distributed service endpoints.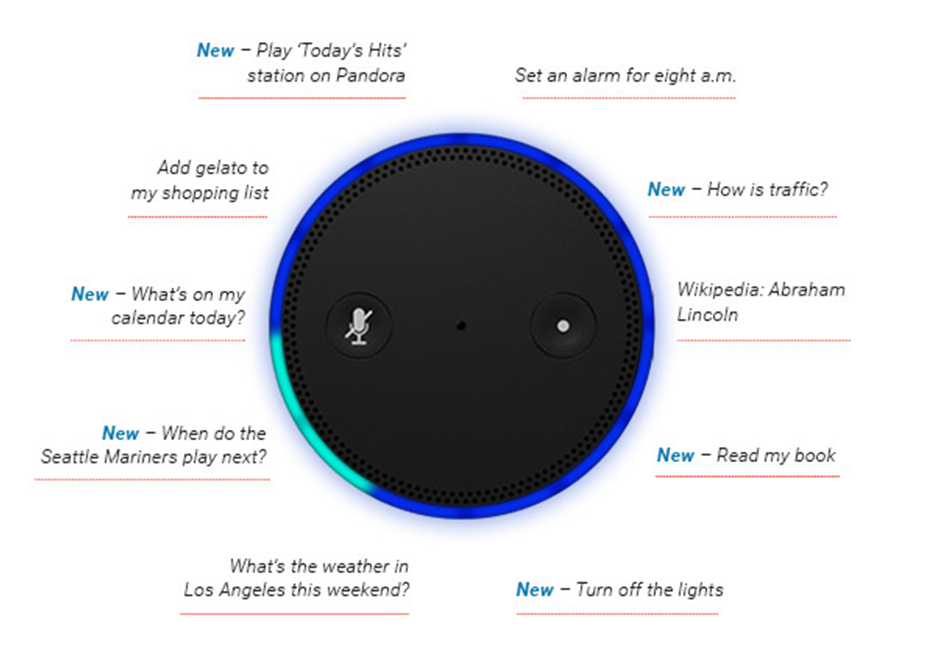 Hardware
Texas Instruments
DM3725
ARM Cortex-A8
processor, 256MB of LPDDR1 RAM and 4GB of storage space. Connectivity is provided by dual-band
Wi-Fi
. The Echo is intended to be voice controlled at the unit, however, a mic-enabled remote control similar to the one bundled with the
Fire TV
is available for purchase. An action button on top of the unit is provided for user setup in a new location, and the mute button allows the microphones to be turned off. The top half-inch of the unit rotates to increase or decrease the speaker volume. The Echo must be plugged in to operate since it has no battery.
Natural voices
Echo's natural lifelike voices result from speech-unit selection technology. High speech accuracy is achieved through sophisticated
natural language processing
(NLP) algorithms built into the Echo's
text-to-speech
(TTS) engine.
Services provided
Echo offers weather and news from a variety of sources, including local radio stations,
NPR
, and
ESPN
from
TuneIn
. Echo will play music from owner's Amazon Music accounts and built in support for the
Pandora
streaming music service was recently added, as was support for
IFTTT
(If This, Then That).
Echo can also play music from streaming services such as
Apple Music
, and
Google Play Music
from a phone or tablet. Echo maintains voice-controlled alarms, timers, shopping and to-do lists and can access
Wikipedia
articles. Echo will respond to your questions about items in your
Google calendar
. It also integrates with Philips Hue,
Belkin WeMo
,
SmartThings
, and
Wink
.
 Additionally, integration with the Echo is in the works for Countertop by Orange Chef, Scout Alarm
,
Garageio
, Toymail, MARA, and Mojio.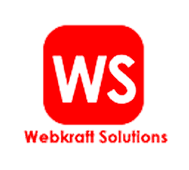 Sources: Wikipedia, Amazon.com